Microbiome & Positivity
Your gut bacteria are more important than you think.
A new study finds that the microbiome may influence how personality develops in infants.
Researchers collected bacteria in poop samples from 301 infants and sequenced the bacterial DNA. This allowed them to see which types of bacteria were in each infant.
One of the strongest associations found was between bifidobacterium and surgency, a key infant personality traits used by experts. Surgency is an infant temperament trait that refers to positivity, cheerfulness, spontaneity, and sociability.
Babies who were more positive and spontaneous had significantly more bifidobacterium in their gut. This type of bacteria harmlessly lives in our bellies. This association suggests that this bacteria may play a role in positive and outgoing personalities.
Source: Gut microbiota composition is associated with temperament traits in infants
Emotional Regulation & The Microbiome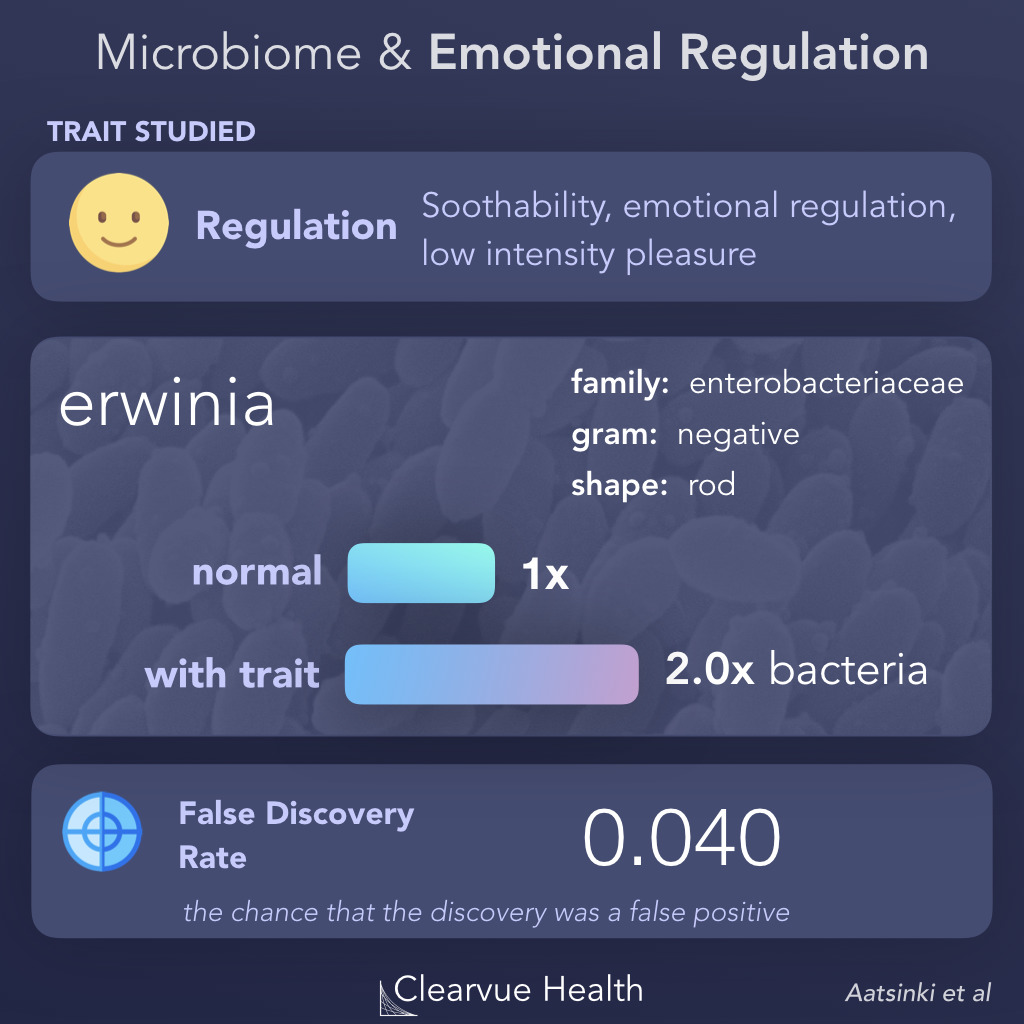 A baby's ability to regulate their emotions was found to correlate with the amount of erwinia in their gut. Babies with these bacteria were more likely to be mellow and soothable. If you've ever met a "chill" baby, they may have had more erwinia.
Source: Gut microbiota composition is associated with temperament traits in infants
Negative Emotions & The Microbiome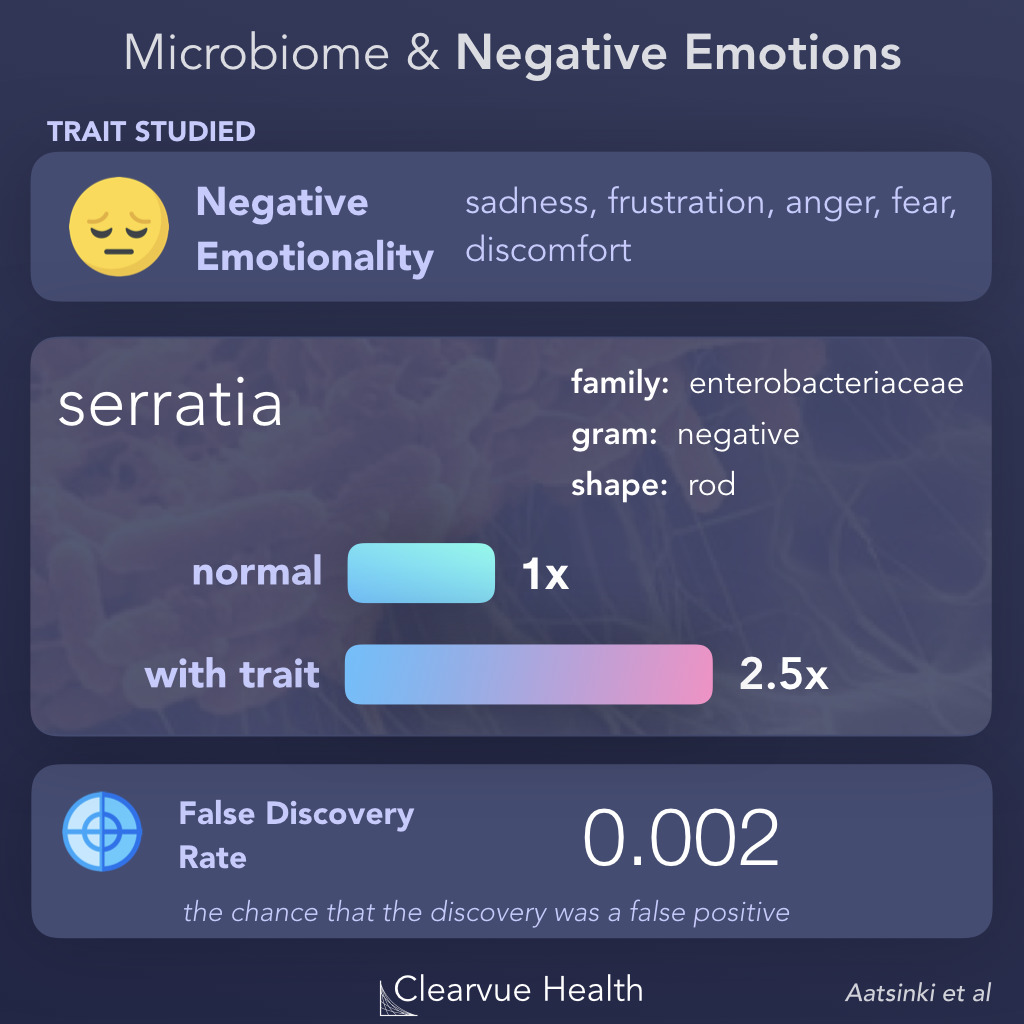 Not all bacteria are as positive as bifidobacterium or erwinia. Babies with another form of bacteria called serratia were more likely to have negative emotionality. This refers to the tendency of a baby to have negative emotions such as sadness and frustration.
Fear & The Microbiome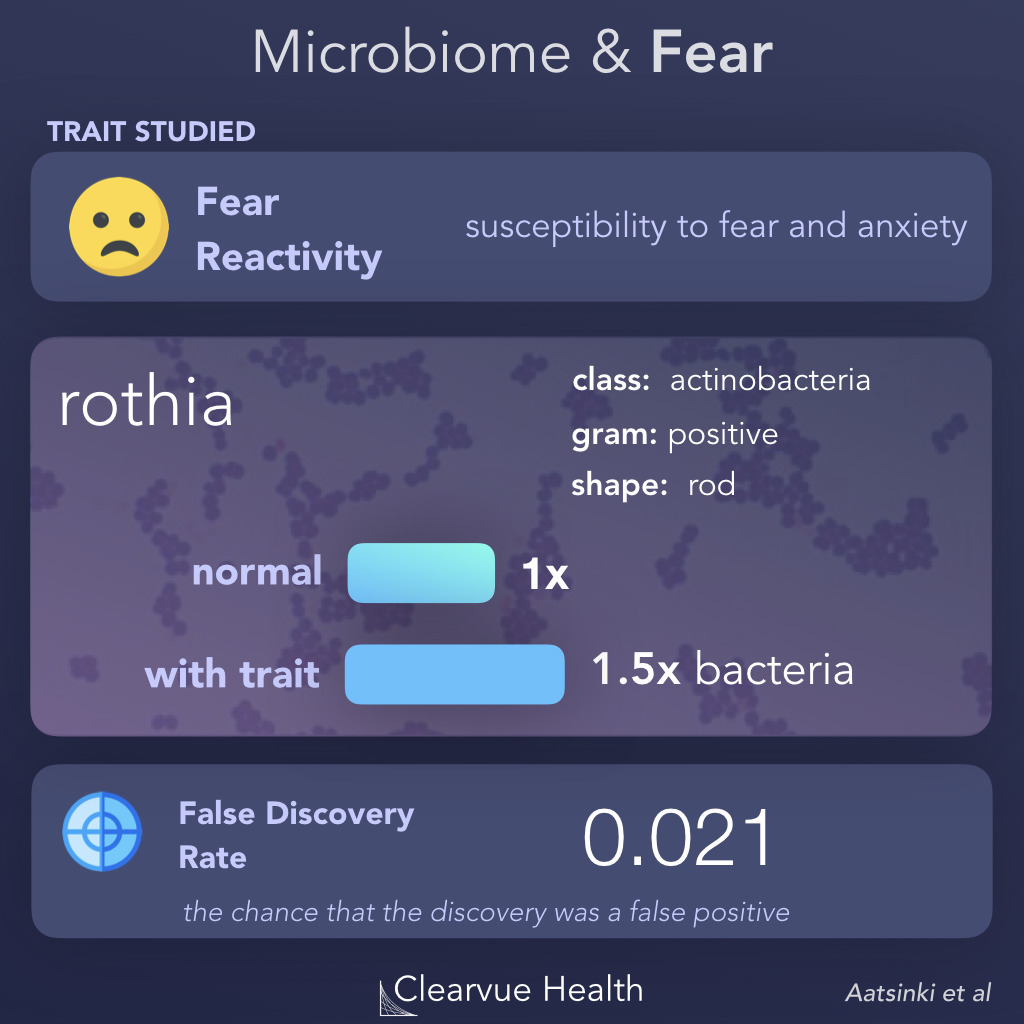 Fear had its own bacteria as well. Babies who are more fearful or had a stronger tendency to respond with fear tended to have a lot more rothia type bacteria in their gut.
Keys to Health
This study provides a fascinating look into the link between gut bacteria and personality.
What is unclear at this point is causality. Does the presence of certain bacteria cause changes in personality, or are babies with certain personalities more likely to have certain gut bacteria? We will need further research to answer this.
What we do know is that bacteria are much more important than we had thought. Somehow, these bacteria in your belly are linked to personality.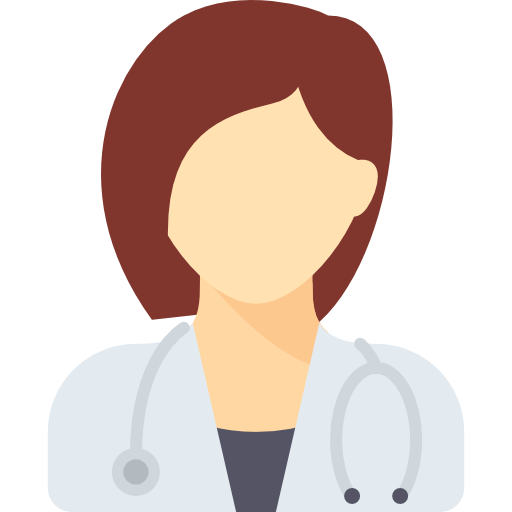 Expert Opinions
Microbiome & Autism
Did you know that the microbiome may play a role in autism? A recent study out of Harvard found that the microbiome has a strong effect on child development. The different types of bacteria a child has in their gut correlates with how they will develop physically and behaviorally. Kids with lots of clostridiales bacteria in their guts were shown to have approx. 1.96x the odds of delayed social skills (95%CI = 1.22-3.15).