Lyme Disease Risk by Month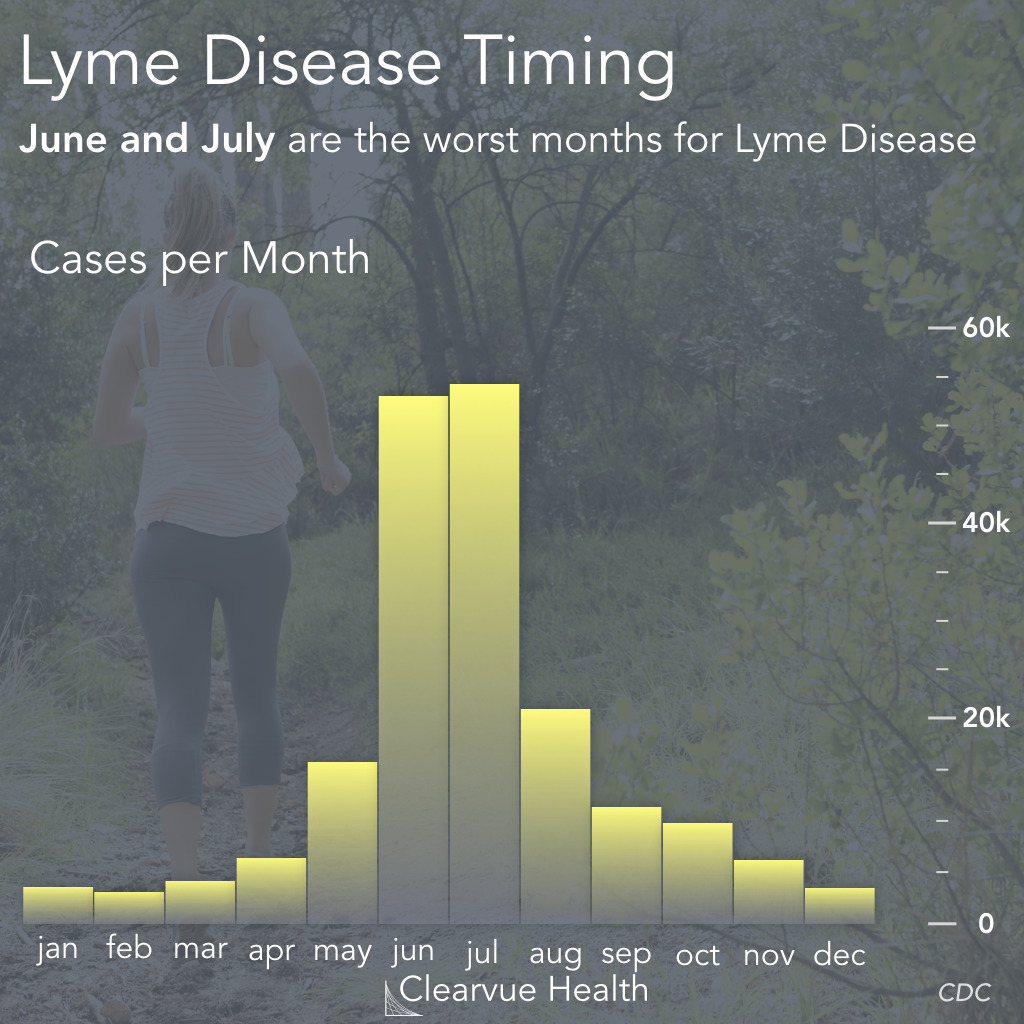 Hiking in the summer and fall are some of the best activities your health and for your soul. However, one of the few downsides is Lyme Disease. This rare but dangerous disease can cause symptoms that last for decades. It can also be challenging to diagnose and treat.
Fortunately, this disease is highly concentrated in specific areas during specific times. Using the 3 charts below, we show when people typically get Lyme Disease, where they get Lyme Disease from, and who is at highest risk.
Summertime is the most dangerous time want to comes Lyme Disease. You are over 10x more likely to get Lyme Disease in June than in February. Since Lyme Disease is transmitted by ticks that live in wooded and grassy areas, this disease has a very seasonal pattern. People are more likely to be outside hiking or walking around in the woods in the summer.
Source: Lyme disease charts and figures: Historical data (CDC)
Lyme Disease Risk by Age & Gender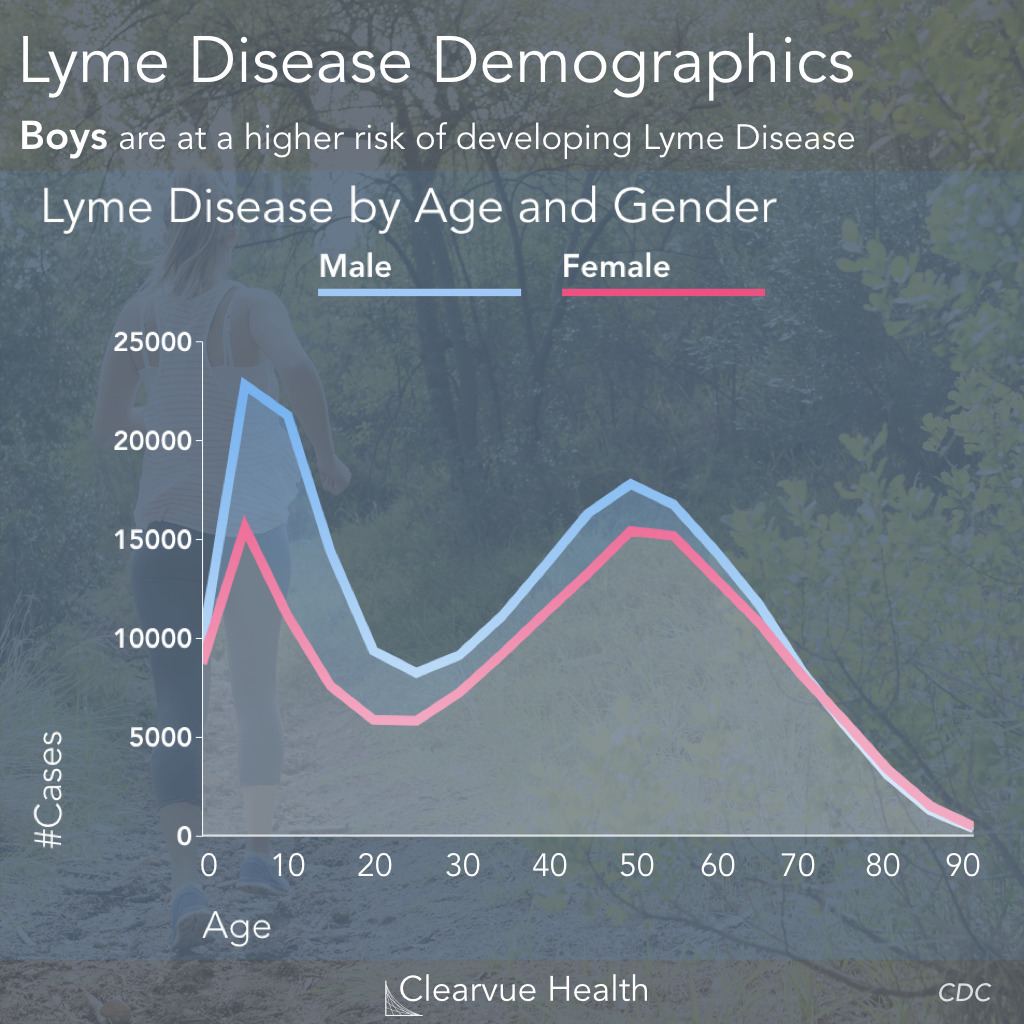 Lyme Disease is generally more common among younger girls and boys and older adults. It follows a "U" shaped curve where young adults have the lowest risk. Among all age groups and genders, young boys have the highest risk of getting Lyme Disease.
Source: Lyme disease charts and figures: Historical data (CDC)
Lyme Disease Risk by Location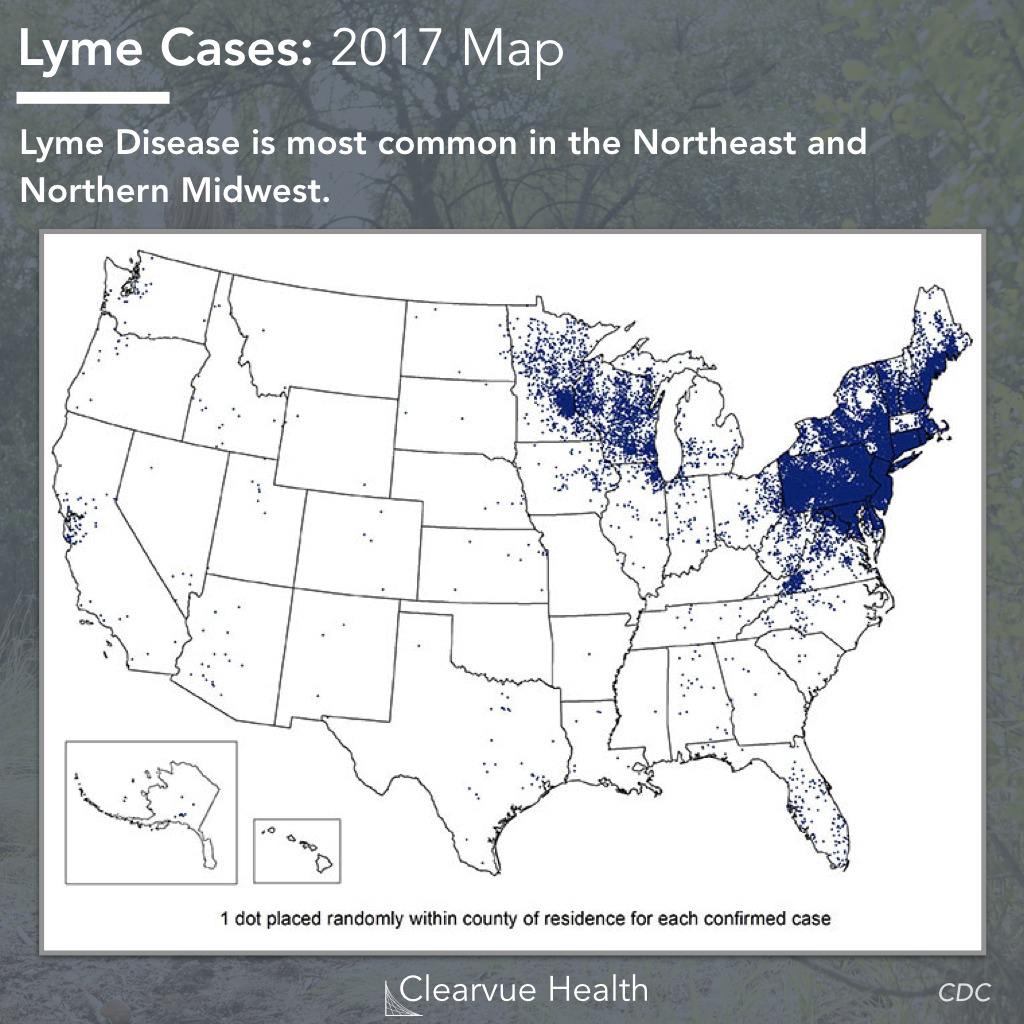 In terms of location, Lyme Disease is heavily concentrated in the Northeast United States and the northern Midwestern states. Because this is a tick-borne disease and not something that you get from another person, Lyme disease is highly influenced by the habitats of the ticks that carry it.
Generally, if you are in an area that's not marked by a blue dot on the map, you should be at a significantly lower risk of contracting Lyme Disease compared to the blue areas, however, keep in mind that this map may change significantly from year-to-year.
Source: Lyme Disease Maps: Historical Data (CDC)
Key Takeaways
If you are going on a hike in one of the above areas during Lyme season, we've outlined a few precautionary tips you can use to keep yourself safe.
How is Lyme Disease Transmitted?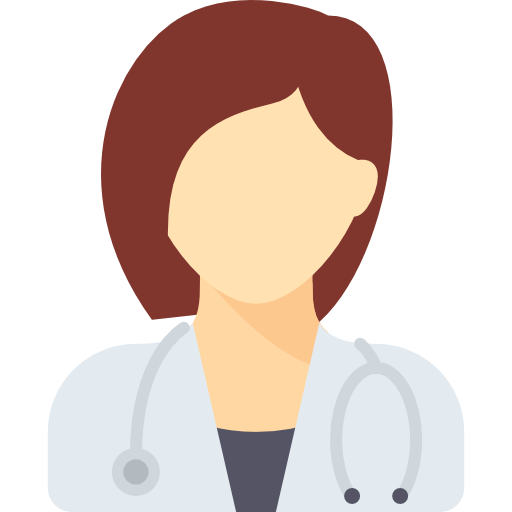 Expert Opinions