Small talk + Smiling = Happiness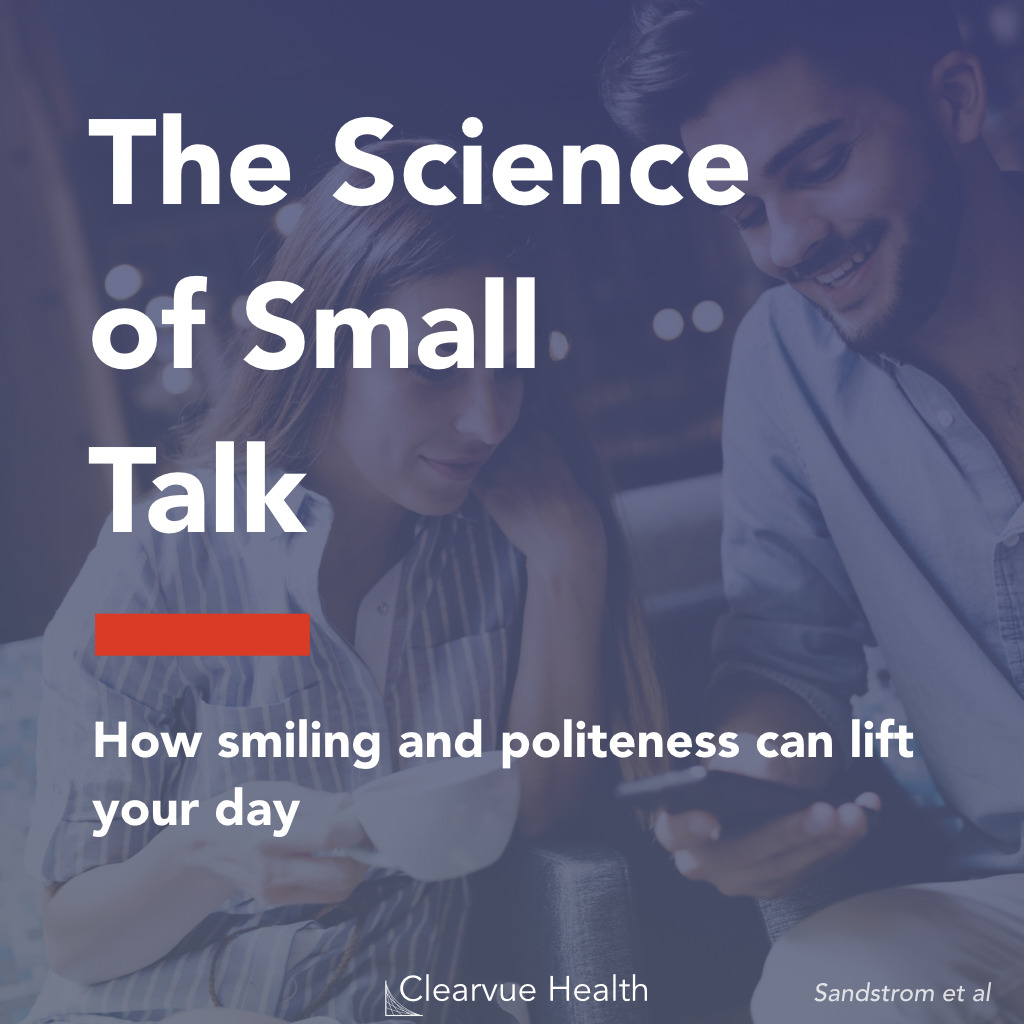 If you want to have a better day, try striking up a conversation!
Several studies have shown that small talk and smiling can lead to measurable differences in happiness and positivity.
Human beings are social creatures. We weren't meant to live and work in solitude. Though we all need some time to ourselves, we can become unhappy without meaningful connections to other humans.
We often forget to acknowledge the people around us. Many of us can be too absorbed in our phones and our work.
When it comes to happiness, that may not be such a good thing.
Chatting with your barista can lead to joy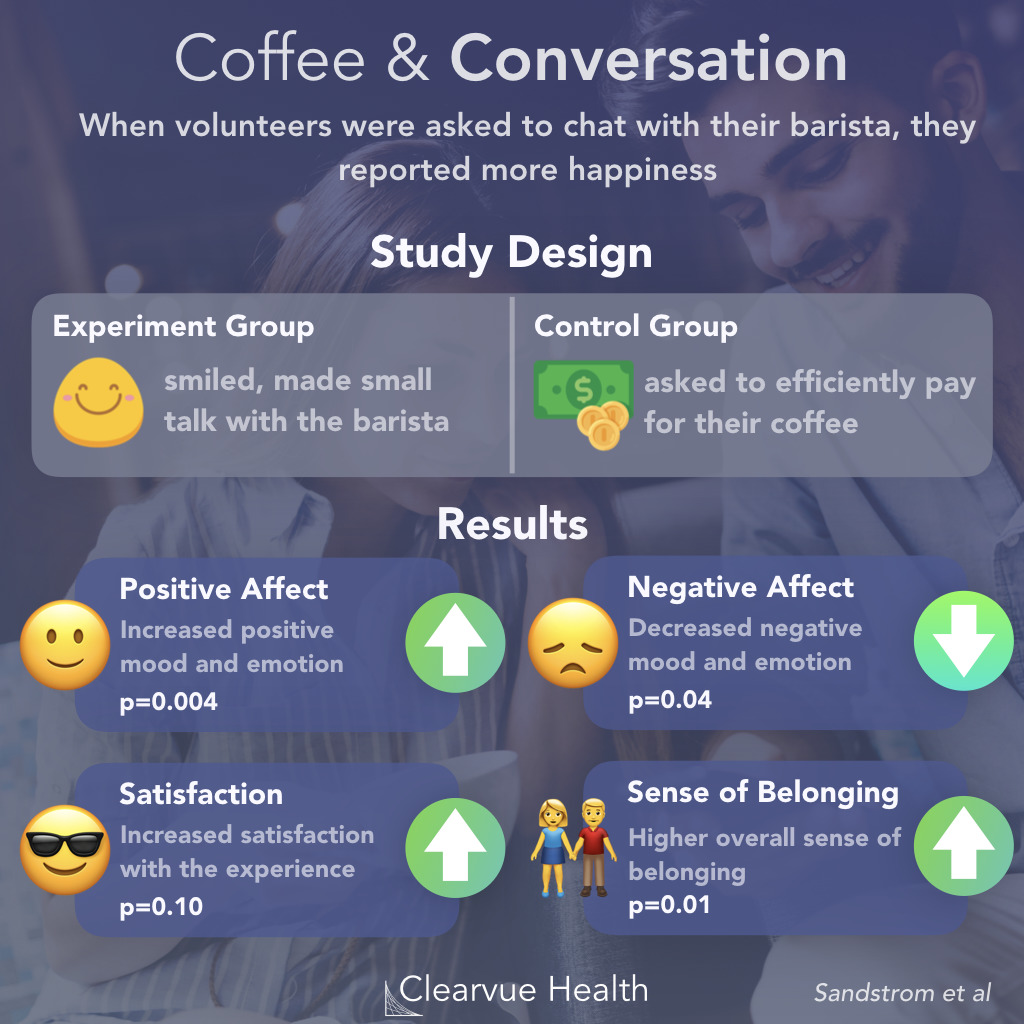 In one experiment, the experimental group was asked to smile make conversation with the barista as they ordered coffee from Starbucks.
The control group was asked to efficiently pay and get their coffee without engaging in small talk.
Not surprisingly, they found that those who made conversation had more positive emotions and feelings after the interaction compared to the control group that did not.
They also found that there was a greater sense of belonging among those who made conversation. Chatting with a barista is a relatively light social interaction. You're probably not going to go into deep topics or personal matters. But, even just a small interaction was enough to cause a measurable increase in a person's overall sense of belonging.
Source: Social Interactions and Well-Being: The Surprising Power of Weak Ties
Conversations in a Waiting Room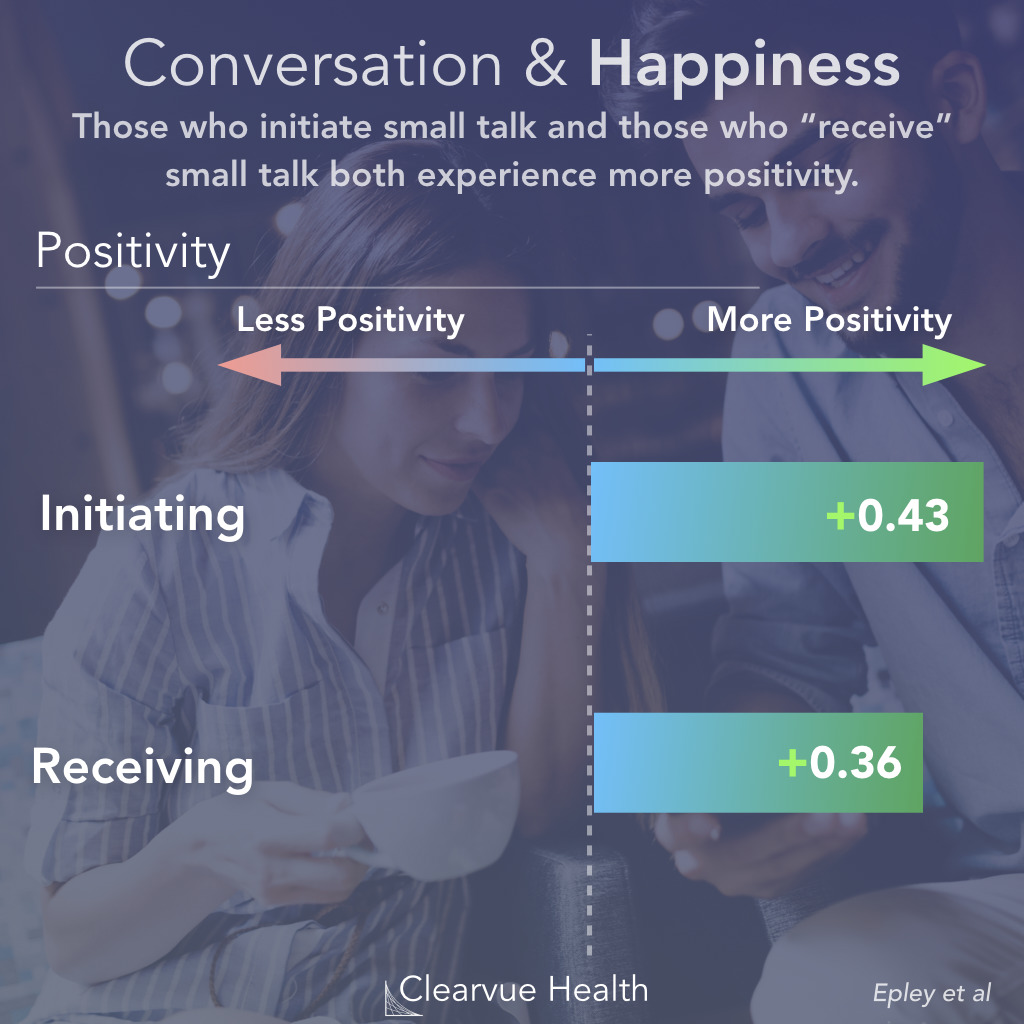 Another study asked some participants in a laboratory to make conversation with their neighbor while waiting.
Similar to the previous study, they found that those asked to make conversation reported greater positivity.
Surprisingly, those who were on the receiving end of these conversations also reported more positivity.
These data suggest that overall, we should expect that being willing to engage in small talk with strangers in a waiting room should make everyone happier.
Source: Mistakenly Seeking Solitude
Chatting with other commuters
If you ever find yourself commuting on the train or some other immensely boring transportation experience, smiling and making small talk may improve that experience just a little.
Researchers asked some participants in an experiment to make small talk with their neighbors on a train.
They asked a second group to keep to themselves.
Not surprisingly, the control group that did not make conversation reported less positivity at the end of the train ride.
The experiment group actually reported slightly higher satisfaction.
These data suggest that we may be able to counteract some of the unpleasantness of our commutes and our flights with smiles and small talk.
Source: Mistakenly Seeking Solitude
Keys to Happiness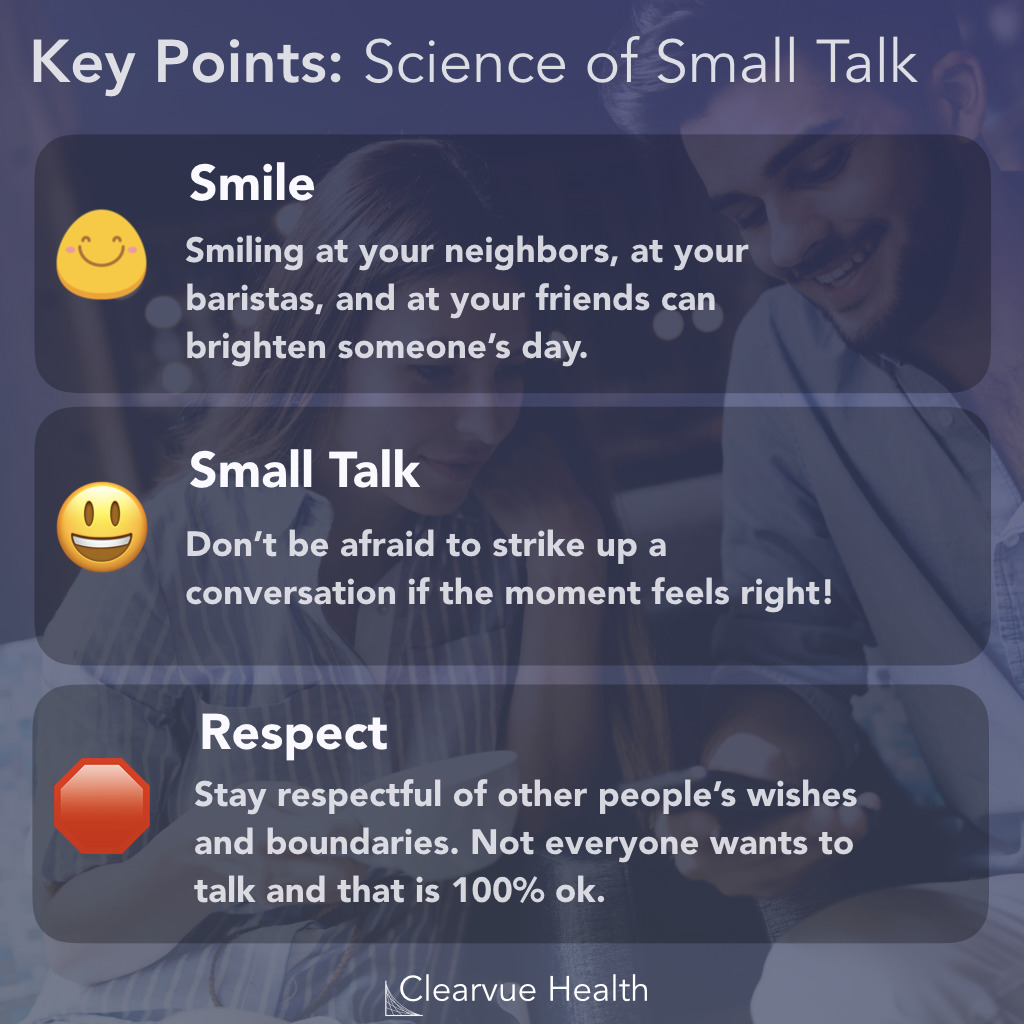 The data is pretty clear that on the whole, conversations and smiling are a good thing. Whether you are an introvert or an extrovert, we all need a little bit of human interaction.
When you're ever in a boring situation such as a waiting room, long train ride, or flight, don't be afraid to smile and make small talk. It could brighten up your's and someone else's day.
Of course, we must be respectful of other people's boundaries. Not everybody wants to talk, and that is completely ok! Staying aware of surroundings and social cues will keep you from bugging your new friend.
Try starting with a smile to see whether someone may be open to talking.
Keeping the conversation light, short, and sweet will ensure that everyone has a positive and respectful experience.