Aspirin Slows Progression to Fibrosis in NAFLD
When it comes to fatty liver disease, it is not the fat itself that concerns doctors the most. Rather, it is the risk of progression to fibrosis and potentially cancer. The presence of fat in the liver leads to liver injury and scar tissue. Over time, the scar tissue gets in the way of liver function, a condition that we call fibrosis.
In a prospective cohort study of 361 adults, researchers found that volunteers who had been taking aspirin had a much lower risk of progressing to fibrosis as shown in the chart above.
Patients also had a lower risk of progressing from NAFLD to NASH.
Fibrosis is a feature of advanced NAFLD and NASH. It is a key sign of disease progression and correlates strongly with mortality.
Source: Daily Aspirin Use Associated With Reduced Risk For Fibrosis Progression In Patients With Nonalcoholic Fatty Liver Disease.
Correlation does not imply causation
NASH
Non-Alcoholic Steatohepatitis
NAFLD Fibrosis Risk by Daily Dose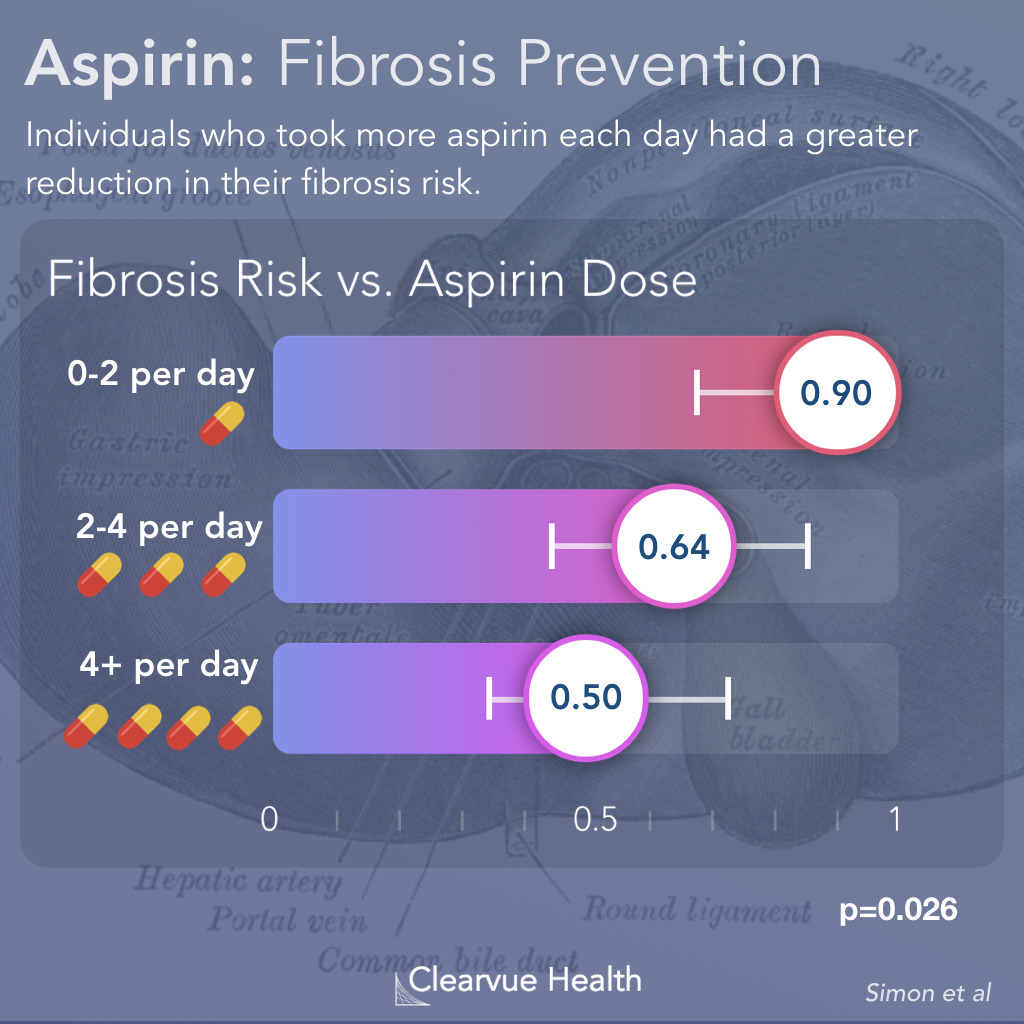 Additionally, higher doses of aspirin were associated with lower risks of fibrosis. While this is not a clinical trial, this research does provide evidence that taking higher doses of aspirin may be beneficial in reducing the risk of fibrosis.
Source: Daily Aspirin Use Associated With Reduced Risk For Fibrosis Progression In Patients With Nonalcoholic Fatty Liver Disease.
Why Fibrosis Matters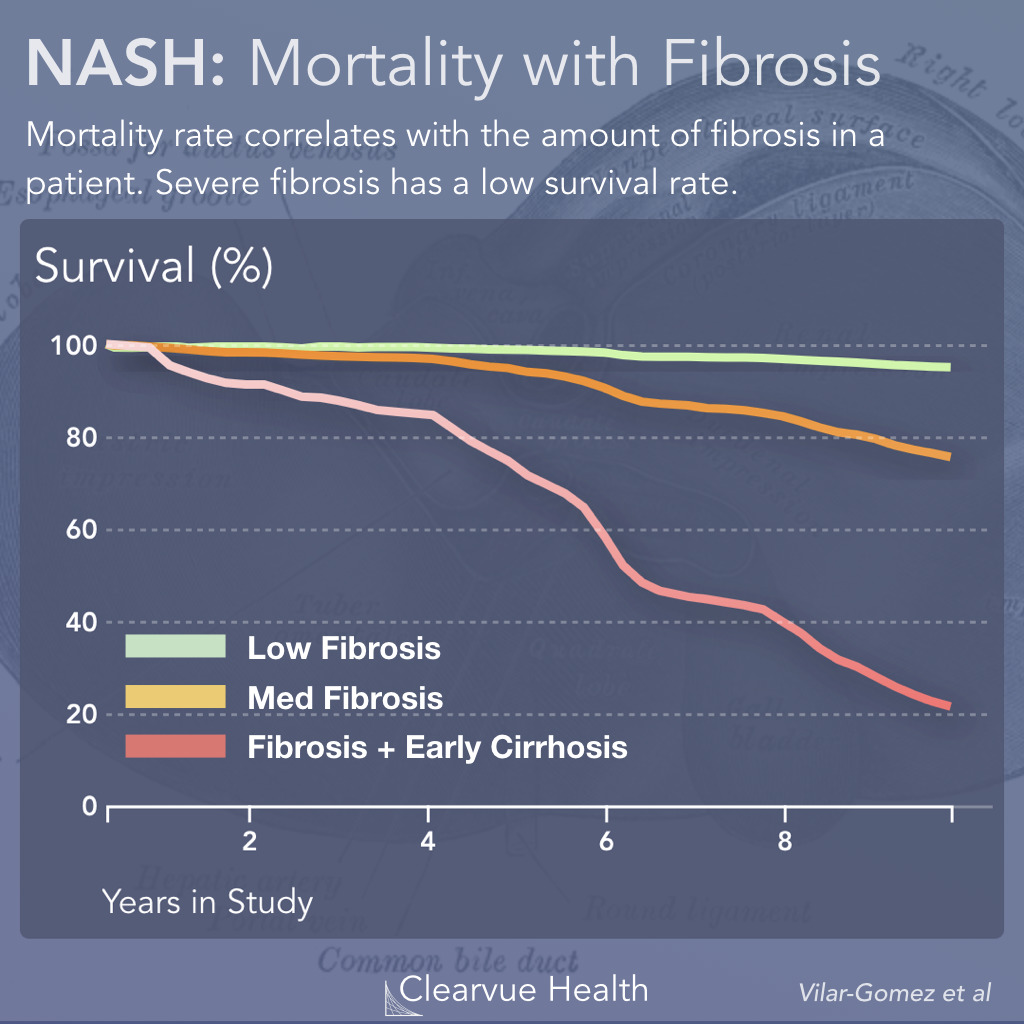 As shown in the figure above, fibrosis is one of the best predictors of survival in NASH. Those with more fibrosis have significantly worse survival compared to those with low fibrosis.
Keys to Health
This research on aspirin and fatty liver disease, while it is in the very early stages, shows encouraging results. If we can actually delay fatty liver disease progression with just aspirin, this could potentially save a lot of lives and prevent a lot of cases of cancer at a very low cost. Aspirin is a drug that is available to nearly everybody. While it does carry some risks for some patients, it is one of the safest medications available.
However, they will need to be more studies, in particular a clinical trial, before we know for sure whether this link is legitimate.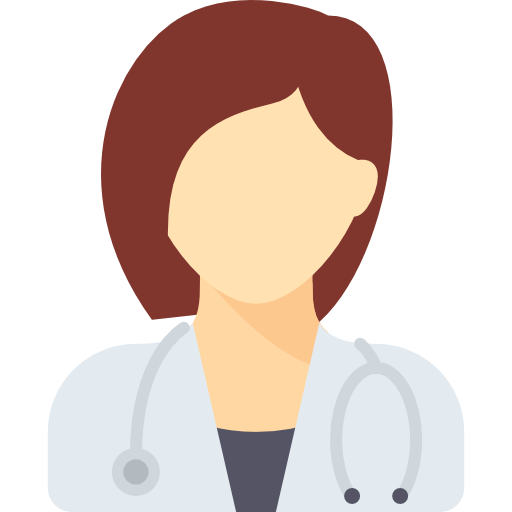 Expert Opinions
Why NAFLD (Non-Alcoholic Fatty Liver Disease) Matters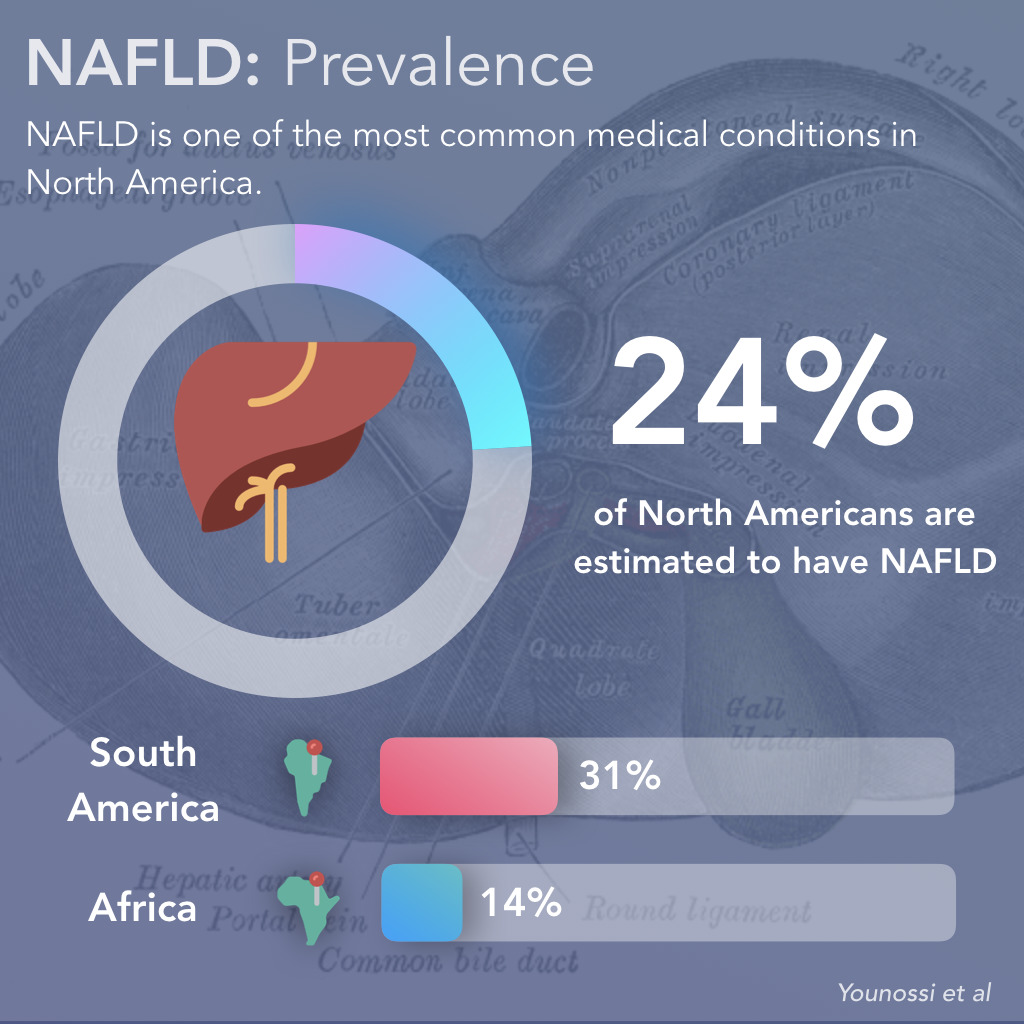 NAFLD Is one of the most common diseases in the United States and the world. Yet most people have not heard about it and most patients with the disease do not know that they have it.
Estimates have shown that about 24% of Americans have NAFLD. By definition, these cases are not caused by alcohol. Many of these patients are not obese.
While there are geographic and racial differences in the prevalence of NAFLD, research has shown that a significant proportion of people around the world face this disease.
Source: Global burden of NAFLD and NASH: trends, predictions, risk factors and prevention.