Interactive Graphic Instructions: Slide or Hover the blue line on the chart to change the numbers below. Lines correspond to calculated values, areas correspond to margins of error.
Purple: Patients Instructed in Breast Self Examination
White: Control Patients without Instruction
Hover or tap the blocks to highlight groups on the graph. 95CI represents the margin of error (95% Confidence Interval)
At Year :
Cumulative Mortality of Patients Instructed on Breast Self Exams
Cumulative Mortality of Patients without Instruction
Additional Facts
ACOG, The American College of Obstetricians and Gynecologists, continues to recommend self breast awareness, as between 40-70% of breast cancer cases are noticed by patients:

Breast self-awareness focuses on having a sense of what is normal for your breasts so that you can tell if there are changes—even small changes—and report them to your ob-gyn or other health care professional.

Our takeaway: See your doctor, keep aware of your health(breast cancer is the most diagnosed cancer in women!), but don't fret too much if you forget your monthly self breast exam.
Downloadable Chart (PNG) - Click to Enlarge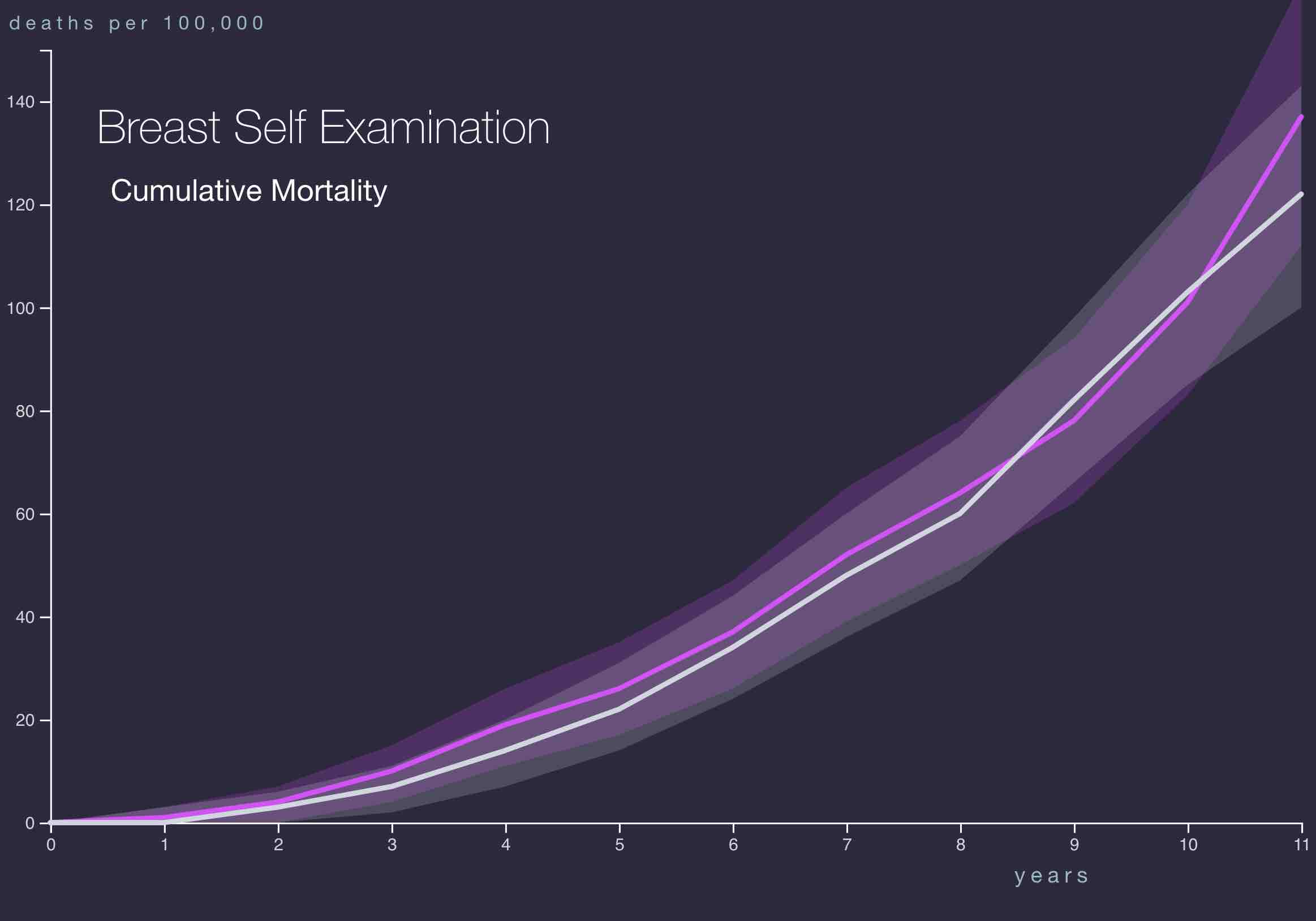 More Visualizations to Explore:
Reference
Thomas, David B., et al. "Randomized trial of breast self-examination in Shanghai: final results." Journal of the national Cancer Institute 94.19 (2002): 1445-1457.
d3.select('div.y-early').on('mouseover',function(){areas['Early'].attr('opacity', '1')}) .on('mouseout',function(){ areas['Early'].attr('opacity', '0.3')});