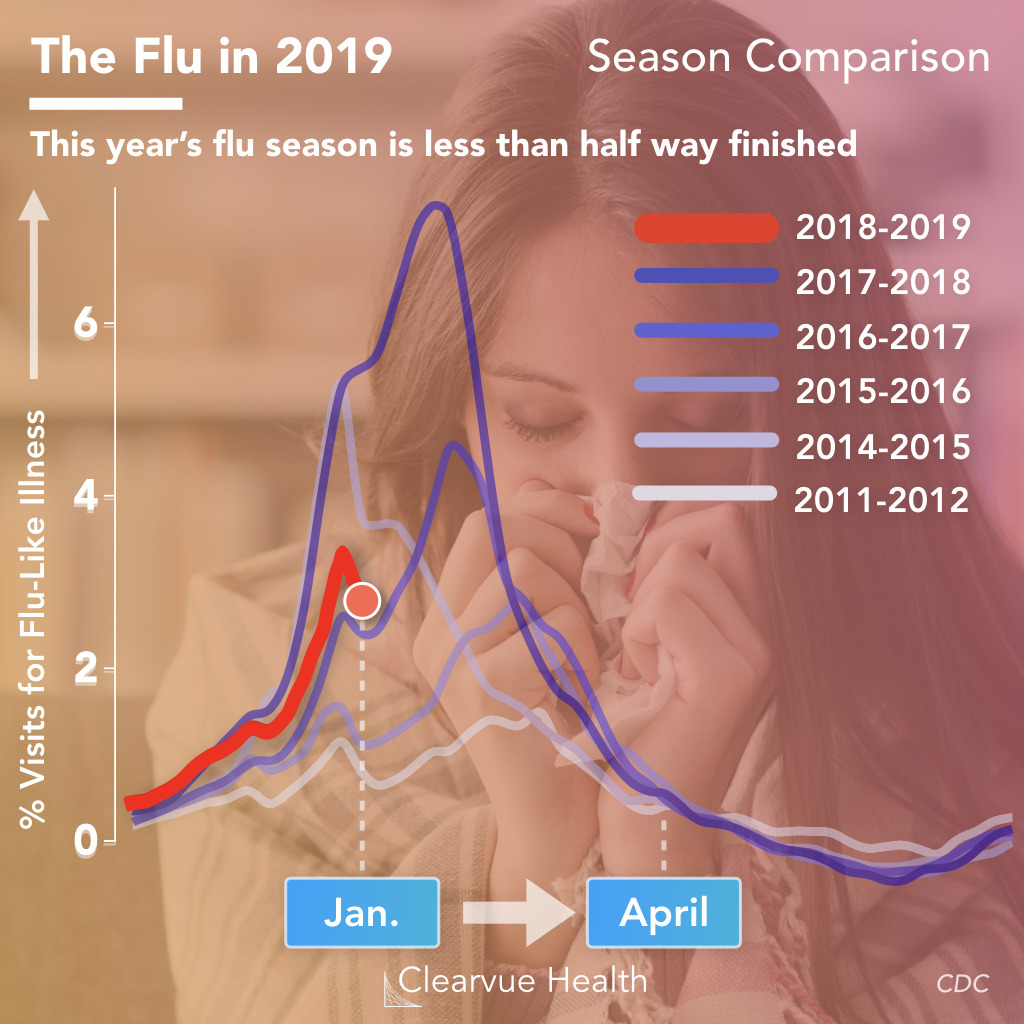 The flu this season is pretty severe compared to previous seasons, though not as severe as the record breaking 2017-2018 season.
According to the CDC, around 3.5% of hospital admissions are for flu-like illness.
These are defined by a fever of 100 degrees F or greater, cough, and/or sore throat.
While this isn't a perfect measure, it does provide a useful comparison with past seasons.
We have plotted the total number of flu visits in January 2019 (above) and overlaid it against 5 past seasons. This is based on a chart created by the CDC
Map of Flu Severity in 2019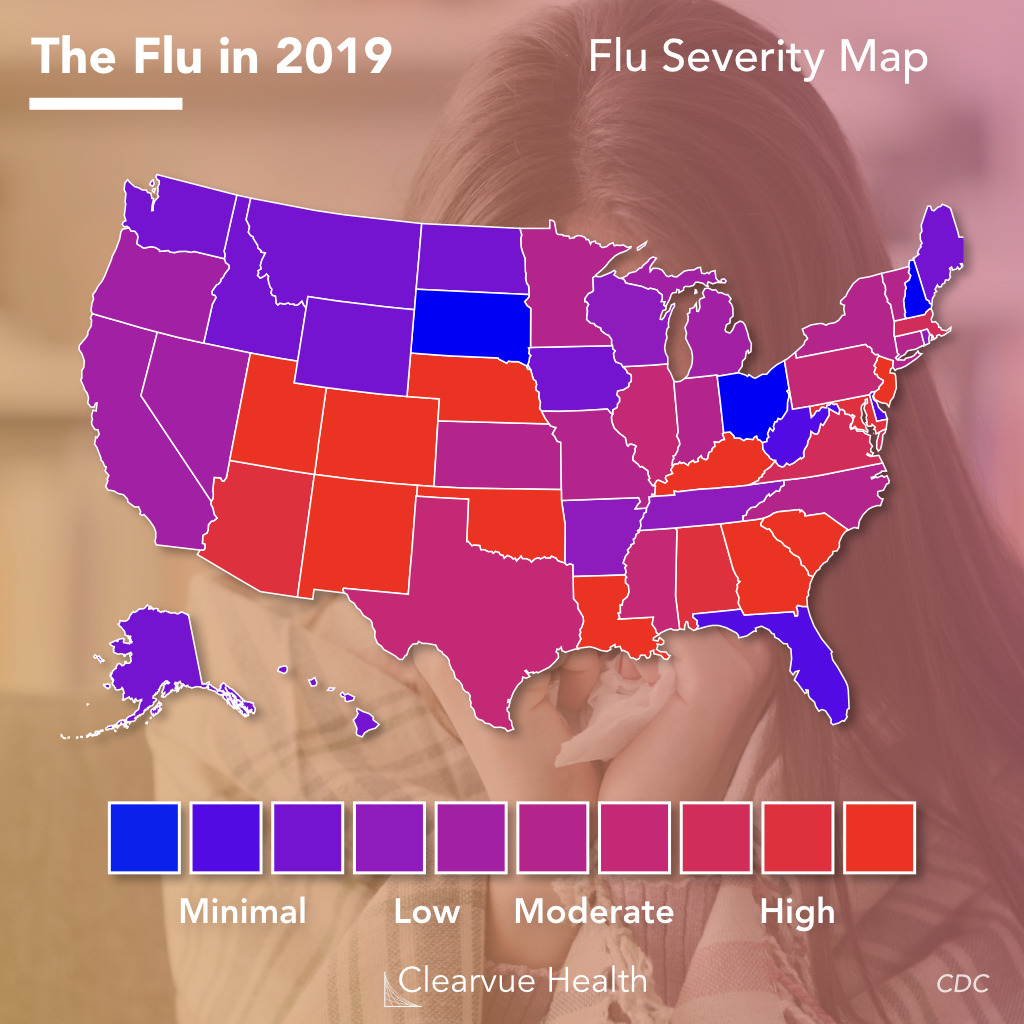 The CDC has also provided data on each individual state. As shown above, some states have it much worse than others. If you're in New York City, or Alabama, Arizona, Colorado, Georgia, Kentucky, Louisiana, Maryland, Massachusetts, Nebraska, New Jersey, New Mexico, Oklahoma, South Carolina, Utah, or Virginia, be extra vigilant.
These states have many more flu visits than average, suggesting that they have more flu activity than other states.
If you're in one of the "Blue" states (and we necessarily don't mean Democrat), you're less likely to get the flu as of January 2019, though this can quickly change.
This map was based on the percentage of visits for influenza-like illness (as defined by a fever of 100 degrees F or greater, cough, and/or sore throat.) This is used as one of several measurements for the spread of influenza.
Is it too late to get the flu shot?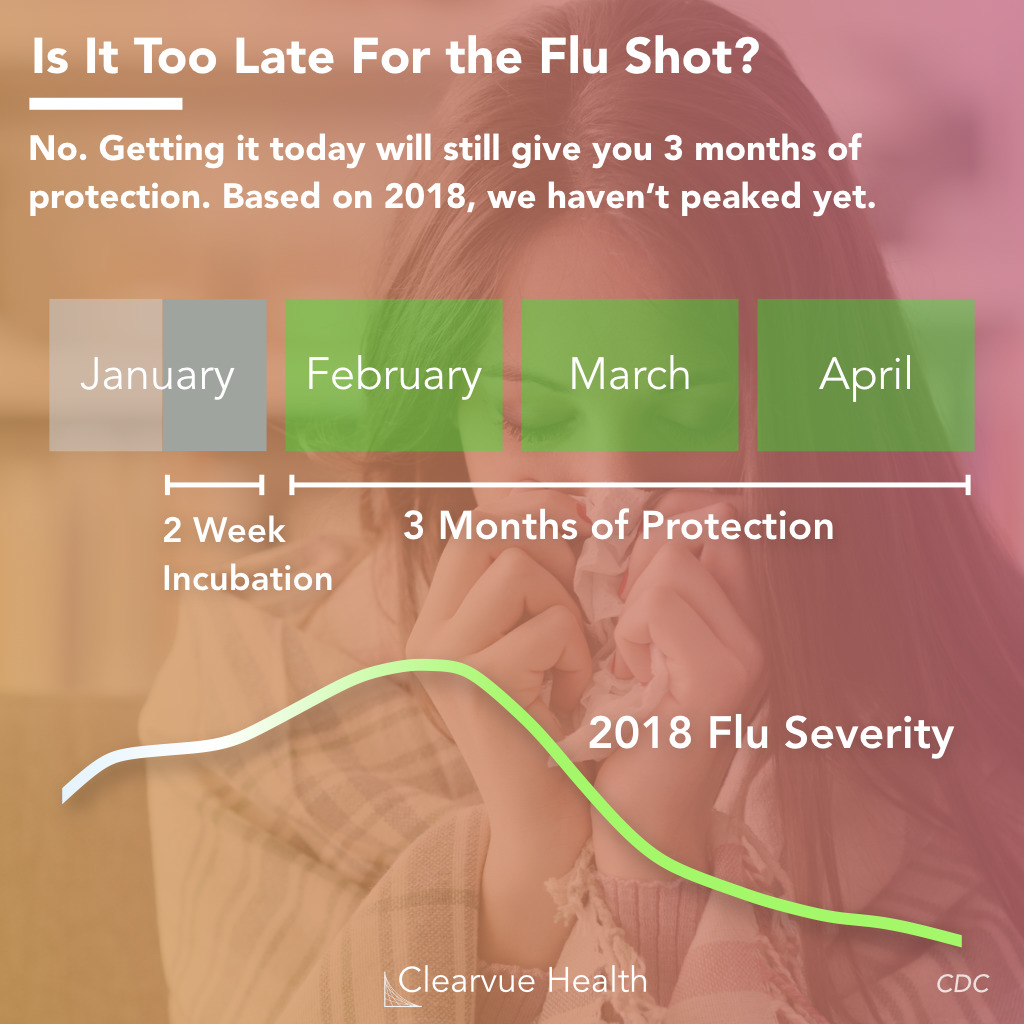 Absolutely not. The flu shot will take around 2 weeks before it becomes effective. However, even if you were to get the shot in mid-January, you would still have several months of solid protection from the flu until the end of flu season.
Based on data from previous seasons, we can see that we likely have not peaked yet as of Mid-January.
Additionally, even after the peak, there is still at least a month or two of elevated flu activity.
If you haven't gotten your flu shot yet, consider getting one. The flu is not a pleasant illness to have.
Flu shots also protect your loved ones. The flu is most dangerous for young kids and the elderly. Even if you are young and healthy, getting your flu shot will prevent you from transmitting it to someone who is not.