Study 1: Zyrtec (Cetirizine) vs Claritin (loratadine) for Seasonal Allergies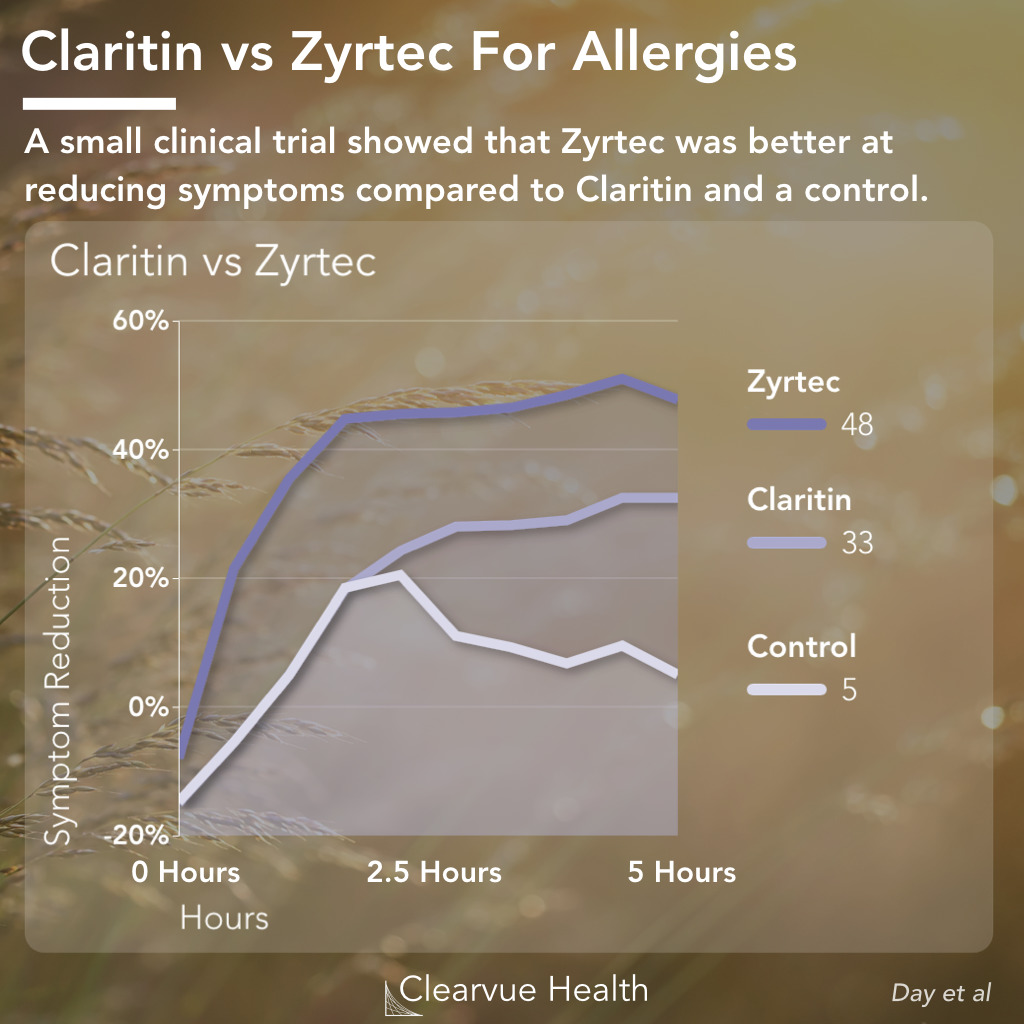 When it comes to treating seasonal allergies, there are sometimes too many options at the drug store. Some may know that benadryl makes you sleepy while others do not. However, deciding between Zyrtec or Claritin may be a little more difficult.
Both are what we call second generation antihistamines. These function like Benadryl, but they do not cause as much drowsiness.
In general, both are effective and both drugs use similar mechanisms. However, in two clinical trials, researchers have found that there are significant differences between the two when they tested them head to head.
In a head-to-head clinical trial conducted on volunteers in a lab, researchers found that volunteers who were assigned to take Zyrtec reported more symptom reduction than patients who were assitned to take Claritin. Both were more effective than the patients who were assigned to take a placebo.
More Info: Second generation antihistamines
Source: Cetirizine, loratadine, or placebo in subjects with seasonal allergic rhinitis: Effects after controlled ragweed pollen challenge in an environmental exposure unit
Study 2: Treating Outdoor Seasonal Allergies in a Park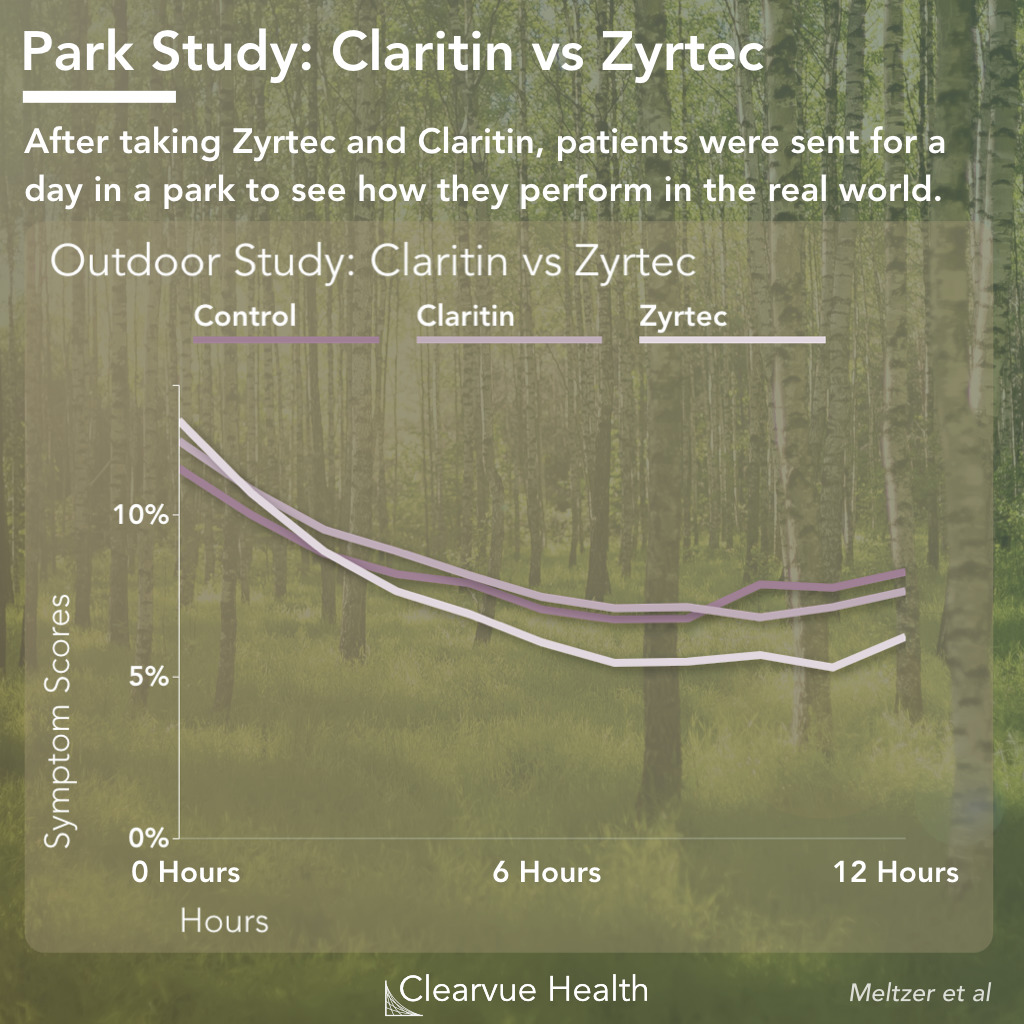 So we know Zyrtec works better in a lab, what about in the real world? Do the results in the controlled environment of a lab translate to better outcomes outside?
A second study answered this by testing volunteers during a day in the park. Since most of us don't live inside labs, this provides a better estimate of how these medications work in the real world.
Researchers found that Zyrtec was again consistently more effective at reducing seasonal allergy symptoms than Claritin over the first 12 hours. The results held constant over the second day as well. (Not Shown)
Source: Comparative outdoor study of the efficacy, onset and duration of action, and safety of cetirizine, loratadine, and placebo for seasonal allergic rhinitis
Side Effects in Zyrtec vs Claritin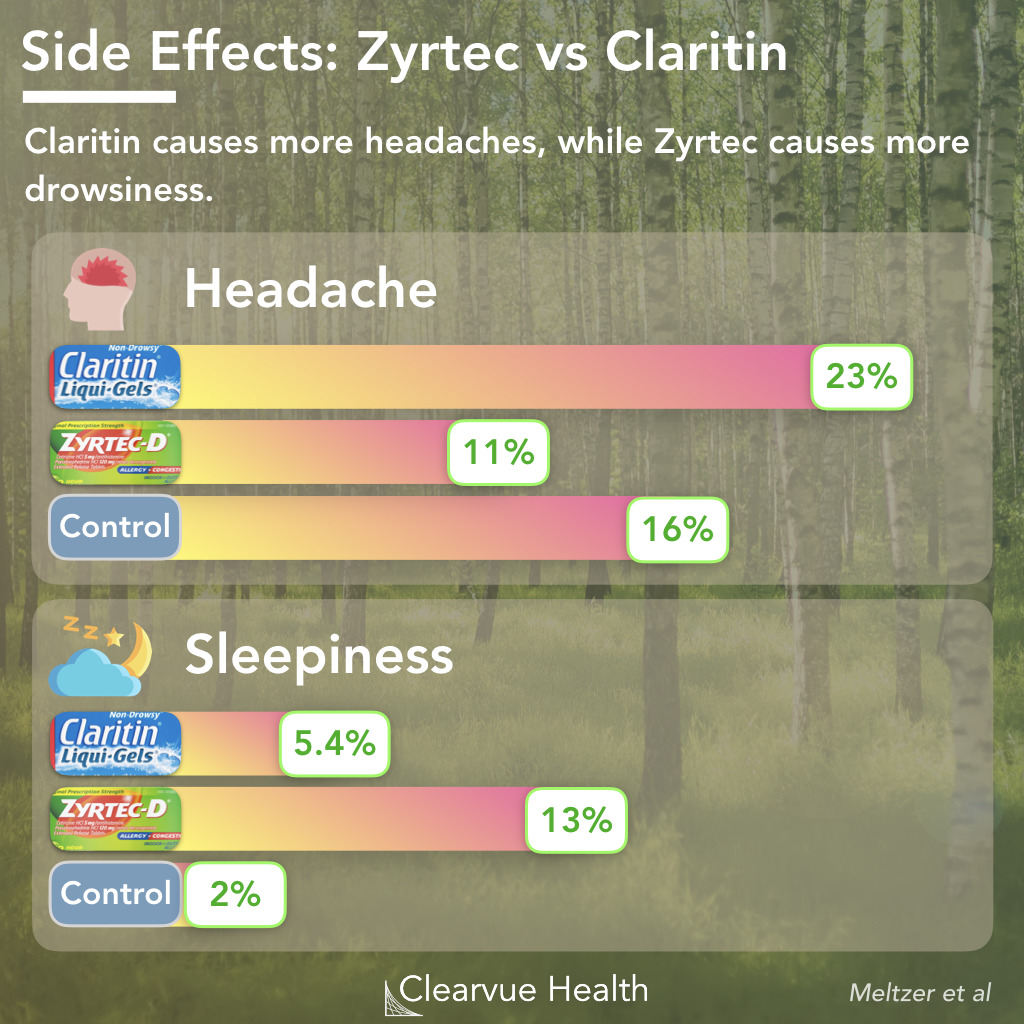 What about side effects? Both drugs are exceedingly safe. However, the clinical trial in the park showed that there were significant differences in side effects between the two drugs.
Volunteers who took Claritin were much more likely to get headaches than patients who took Zyrtec. (23% vs 11%). On the other hand, patients who took Zyrtec were significantly more likely to report feeling sleepy. (13% vs 5.4%)
Key Takeaways
At the end of the day, both Zyrtec and Claritin are effective drugs. You can't go wrong no matter which one you choose. Different patients will respond differently to each one. Side effects may be different as well. When it comes to seasonal allergies, go with the one you feel best on.