FDA Boxed Warning for Ambien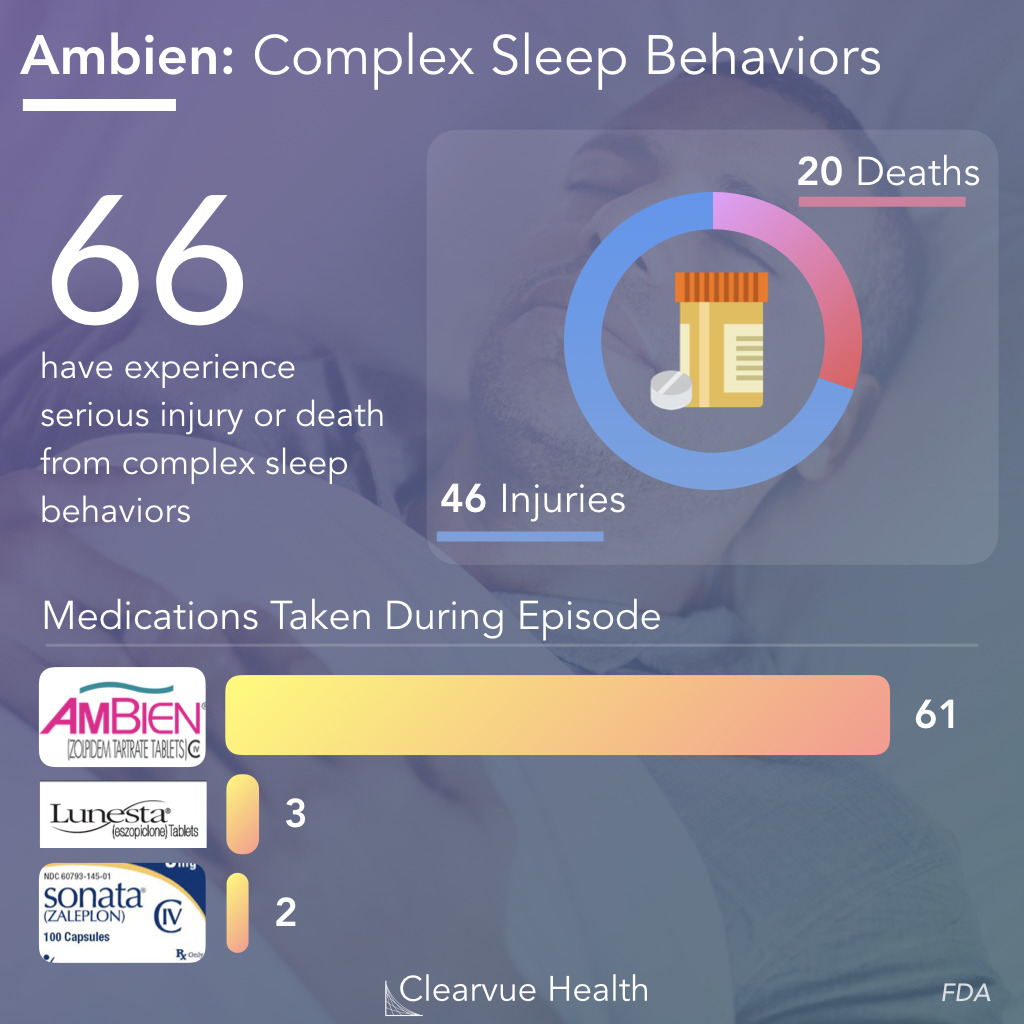 Ambien, Sonata, and Lunesta are some of the most commonly prescribed medications in the United States. There are 38 million prescriptions for drugs containing zolpidem, also known as Ambien.
These medications are very safe for the majority of people, with relatively few side effects.
However, on occasion, they can cause what scientists call "Complex Sleep Behaviors." If you've ever heard of someone driving or sleep walking while on Ambien, they are experiencing a complex sleep behavior.
These behaviors include sleep walking, sleep eating, and sleep driving. While rare, they can on occasion cause serious injury or death. The FDA has confirmed 20 deaths and 46 serious injuries from Ambien, Lunesta, and Sonata.
Source:FDA adds Boxed Warning for risk of serious injuries caused by sleepwalking with certain prescription insomnia medicines
Most Common Injuries on Ambien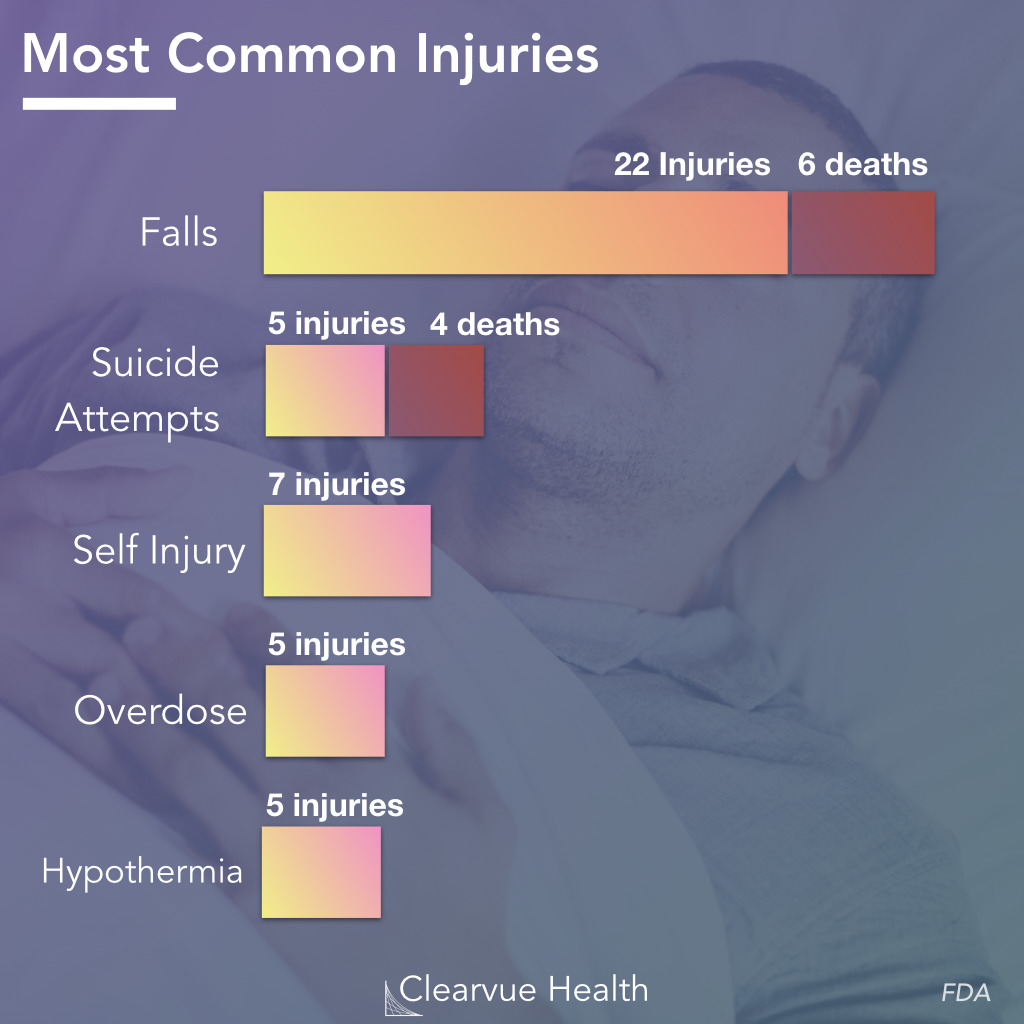 Of the people who were injured or killed while on Ambien, most were because of falls. Sleep walking is relatively common. When you're "not totally there," it can be easy to injury yourself. Ambien has also been believed to be responsible for several cases of attempted and completed suicides, as well as multiple self injuries.
5 people were injured on Ambien through hypothermia, presumably when they went outside while still under the influence of Ambien.
Source: FDA adds Boxed Warning for risk of serious injuries caused by sleepwalking with certain prescription insomnia medicines
Staying Safe while on Ambien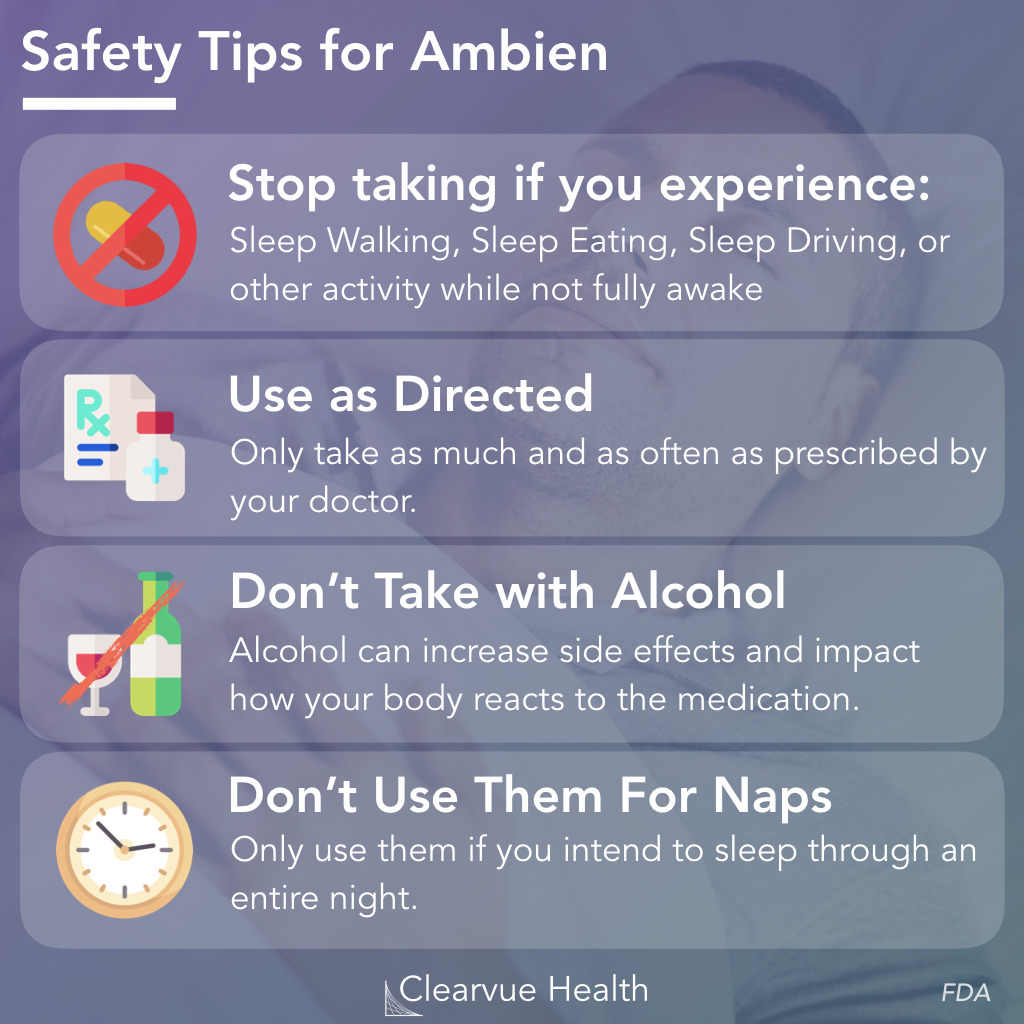 This label is not intended to keep people from taking Ambien, rather it's to warn and advise patients on how to stay safe while taking this effective drug.
If you have experienced any sleep walking, sleep eating, or other complex sleep behaviors, stop taking Ambien and talk to your doctor.
Otherwise, be sure to only take as much and as often as you're prescribed for. Don't take Ambien or any sleep medications with alcohol. Alcohol has similar mechanisms to these drugs and can interfere with how your body responds to the medication.
Finally, don't take Ambien unless you plan on sleeping the whole night. If you have to wake up in a few hours, for example with a nap, these drugs can cause sleepiness and grogginess after you wake up early.
Source: FDA adds Boxed Warning for risk of serious injuries caused by sleepwalking with certain prescription insomnia medicines
Related: Valerian Root
Valerian Root is a great natural alternative to ambien. Unlike many other herbal remedies, valerian root has been studied in multiple scientific trials.
Valerian Root is an herb used by the Ancient Greeks for sleep. Some placebo-controlled trials have shown valerian to be effective. For the most part, Valerian is very safe, with few known side effects.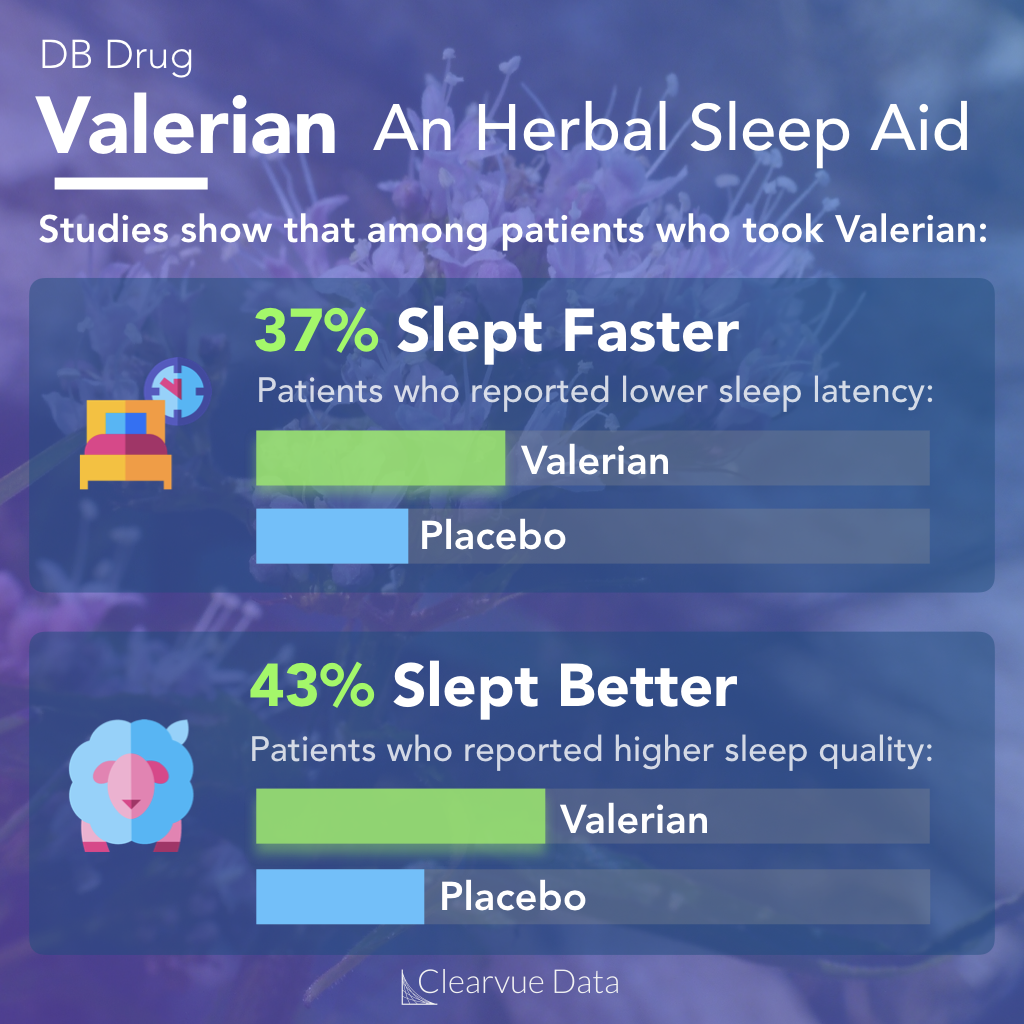 Related: Blue Light
One way to improve sleep without medications is by reducing your exposure to blue light before bed.
Late night phone and computer use have been clearly linked to worse sleep. Our device screens suppress our body's natural sleep signals. Blue light filtering has emerged as a possible solution to get our sleep back on track.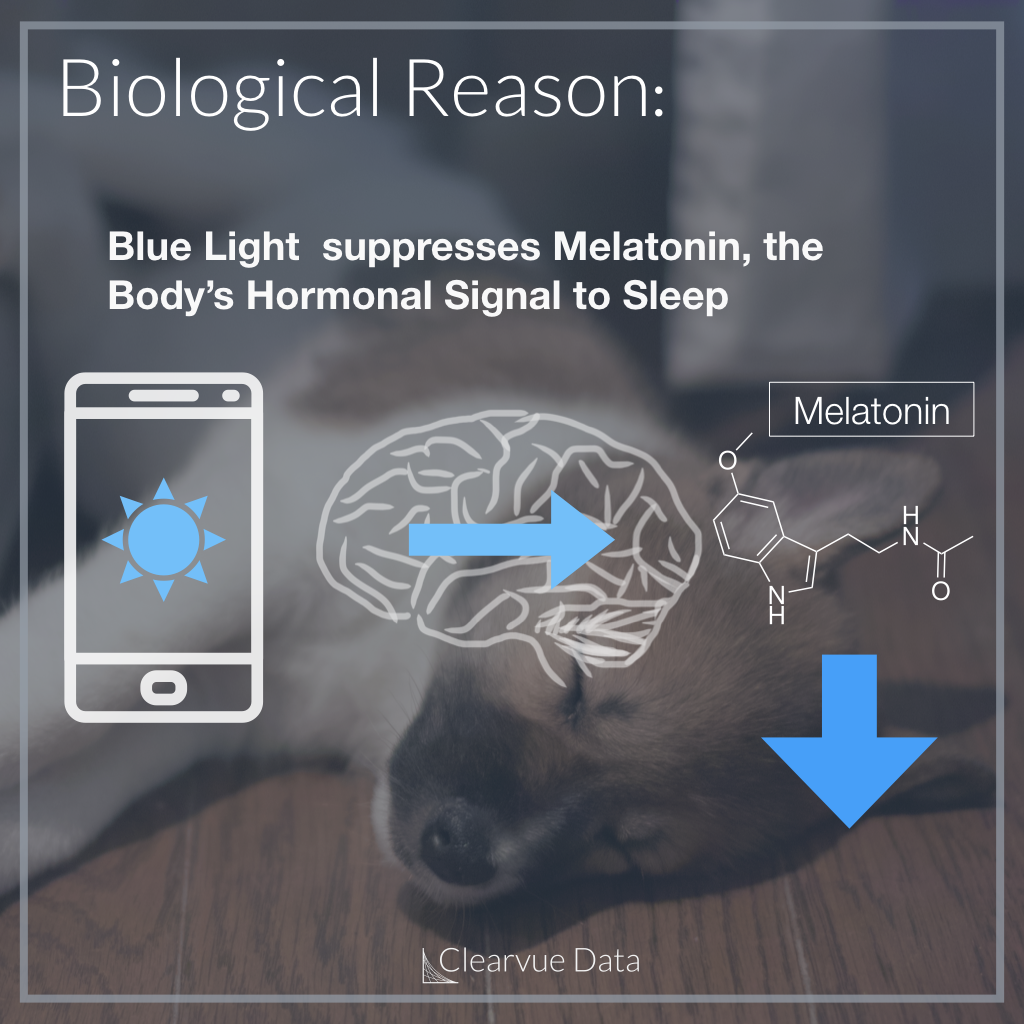 Key Takeaways
If you have experienced a "complex sleep behavior," stop taking your medication and talk to your doctor.
As the FDA writes, this can be very dangerous to your health:
"
The Food and Drug Administration (FDA) is advising that rare but serious injuries have happened with certain common prescription insomnia medicines because of sleep behaviors, including sleepwalking, sleep driving, and engaging in other activities while not fully awake. These complex sleep behaviors have also resulted in deaths. These behaviors appear to be more common with eszopiclone (Lunesta), zaleplon (Sonata), and zolpidem (Ambien, Ambien CR, Edluar, Intermezzo, Zolpimist) than other prescription medicines used for sleep. As a result, we are requiring a Boxed Warning, our most prominent warning, to be added to the prescribing information and the patient Medication Guides for these medicines. We are also requiring a Contraindication, our strongest warning, to avoid use in patients who have previously experienced an episode of complex sleep behavior with eszopiclone, zaleplon, and zolpidem.
FDA